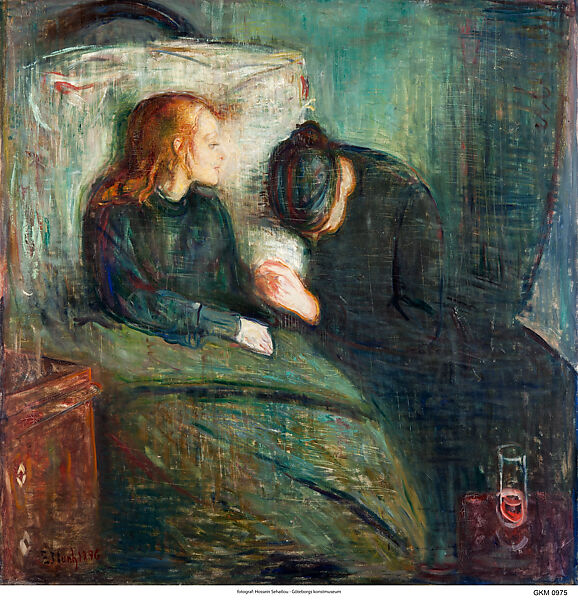 "Don't be sad, mama."
Astrid's mother will not meet her eye. The girl's red hair is plastered to her milky forehead. A sweet, cloying smell hangs in the air. Astrid wants to ask her mother to open the window, just a crack, just for a minute, but knows she'd refuse. Bad for a fever. The room is warmed by a fire flickering in the hearth. It hisses the odd orange ember. It's too warm: her mother is wasting fuel again.
Outside, snowflakes land on the windowpanes and immediately turn to water, dribbling their way downwards and making tracks through the condensation. When she is alone, Astrid likes to watch them, placing bets on which one will reach the bottom first. She doesn't like it when they conjoin, it confuses her.
She turns her head to the left, to the mirror on the wall beside the window. She can see herself over her mother's shoulder. Her reflection is her constant company. Beneath the sallow sheen of her skin, her eyes burn with the intensity of the damned. Her free hand travels to the silver crucifix around her neck. The metal feels hot to the touch. She swallows. Her throat is parched.
"Mama," she whispers.
Her mother looks up. Her eyes are sadness ringed with blue. Downturned mouth, fine lines. Worry on her brow. Brown bun, streaked with grey. She's still clutching Astrid's left hand.
"Some water, takk," She croaks.
Her mother nods, stands up to her full height, crosses the room in two long steps. Pours water from the jug on the dresser, and returns. the room is dim, lit only by the small fire and a paraffin lamp. Her mother is wearing a dark dress. Her pale skin gives the appearance of a disembodied head and hands.
Astrid takes a sip from the glass which has been held out to her. She shifts her weight on the pillow supporting her back. Her joints ache. She wants to go out and walk, but Winter has gathered its short days and bitter cold. Her lungs couldn't take it.
An icy wind rattles the glass. Now, despite the heat, the heavy snow is beginning to collect in the corners of the window like dust. Her mother follows her gaze.
"Maybe it will be better by tomorrow," her mother says, but they both know it's not true.
"Yes, maybe."
"You could even visit the Anderssons in a few weeks, if we get a nice day."
"Yes." She tries to smile.
"It's almost spring really, when you think about it. And then, once it's spring, it's not even that much longer until we can go cloudberry picking again. You'll come with me, won't you?" her words are falling out faster and faster now "Magnus gets bored, and Ingrid can't carry the basket yet, or she might trip, and we can't have tha-"
"Yes, mamma. I will."
Her mother smiles and smoothes the hair from her forehead.
A silence settles. Astrid can hear her family's feet creaking on the wooden floorboards in the rest of the house. She counts them: two heavy treads and one lighter tread. She knows who it is when they pass by. Her big brother's loping stride. Her little sister's uneven trot. Her father's heavy thud. At least they seem to have made peace with her passing. She only sees her mother now, and only in the evenings. Only when the last of the sun's weak light has long since faded over the horizon, travelling west. Only when her mother's bones ache and her hands are red and cracked. Astrid is a ghost in this house. She haunts them.
Her mother's hands clutch at Astrid's, rough skin brushing against clammy softness. She rubs Astrid's hands as if she could rub the life back into them.
"Shall I tell you about Askeladden and the forest troll?"
Astrid's heard the tale a hundred times. But her mother always embellishes it differently. Sometimes Askeladden's brothers go back with him into the forest. Sometimes Askeladden's cheese is too ripe to fool the troll into thinking it's a rock. And sometimes Askeladden is sent by the troll to chop wood and threatens to bring the whole forest instead.
"I'm too old," she says, but she knows her mother will tell it anyway, and secretly she wants her to.Her mother takes a deep breath and begins: "Det var en gang…"