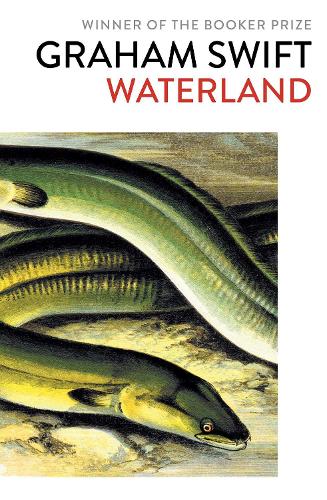 Creepy, eely, dark, sombre, full of folk tales, mystery, revenge and family secrets, an unreliable narrator and a collection of fascinating anecdotes- this is historical fiction like you've never read it before.
This book is old. It was published in 1983. So I'm not saying anything new here. It won the Guardian prize for fiction and has become a postmodernist classic, so this review is not going to help it get the recognition it deserves. Having said that, let's get on with my gushing.
First of all, the writing style is something I've never experienced before. It's most reminiscent to me of Günther Grass, but since he writes in German and I had to read his books as a lowly second year, it left me horribly frustrated yet confused. Swift's writing is somehow clear as mud, but rings like a bell. It's obtuse and simple at the same time. The narrator, a disgruntled history teacher, suddenly decides to start telling his pupils stories 'instead' of 'real' history. But, if you didn't already know this, history is just stories anyway. There's loads of asides from this narrator: Swift really maximises the use of brackets and dashes, almost like a blog post, yet it never gets annoying. Sometimes, he skips from one thought to another, or leaves something unsaid yet implied. You just have to get used to this. However, the book flows like the Ouse river, it oozes into your soul. The prose is beautiful, almost archaic. You get the sense of a well-educated history teacher, born in the late 1920s, talking to you. One who's extremely intelligent yet a tiny bit mad. I read these – almost 500 pages – in three days. I put it down to eat, sleep and watch Netflix in the evening. Sometimes I took the dogs for a walk. And then I got back to reading.
One day in 1943, a body washes up in the river outside the narrator's house. He's around sixteen years old, a lockkeeper's son, and knows he is partly to blame. Why? That's what takes an entire book to explain.
The setting here is all-important. It's the Fens. That creepy, forgotten expanse of watery land in East Anglia. The Fens are vast, empty and very, very flat. They're not even supposed to be there at all. They're built on reclaimed land dredged from the Wash. The Fens are built on ever-shifting peat and silt. Most Fenlanders are poor, and the area is sparsely populated. Most farm the rich soil. On a clear day, you can see Ely Cathedral from any part of the Fens. The man-made, man-shaped canals and rivers are teeming with eels. That's how it got its name. Eely Cathedral. The residents are a bit eely themselves. Slippery, cagey and with a propensity for caprice. They'd turn back on themselves and swim against the current rather than stop gossipping.
Apart from all the Fenland stories, many of which read like fairy tales, with themes of comeuppance, revenge, betrayal, incest and murder, there are also many asides about the nature of history itself. The teacher, Tom Crick, is nominally attempting to teach his class about the French Revolution. However, he's being forced into early retirement, so he decides to throw it out the window and tell whatever he feels like: stories of from his mother, stories of the Fens in the 18th and 19th Centuries, anecdotes about eels, silt, beer, to his own stories- his first love, and his brother. As a reader, you sometimes have to be patient. There's a bit of navel-gazing about historiography. How can we know history? What gets told? It's very postmodern, and as a history graduate I was digging it like Fenland silt, but it won't be to everyone's tastes.
The novel is nominally set in 1980, as the history teacher spins his yarns, yet it covers a vast period of Fenland history, from the 1700s to the present day. The townsfolk are achingly superstitious. Will-o-the-wisps haunt the rivers, and a wise woman, Martha Clay, squats in her hut outside town performing backstreet abortions with the help of dried herbs swinging from the rafters, seemingly immortal. The history teacher grew up here in this wild, flat land of biting wind and mystery. Some find it hard to believe Graham Swift grew up in South London and barely even visited the Fens in his research for the book. The novel is dripping with atmospheric ooze, the silt which both builds and destroys.